Triple Crown Chiropractic
Dr. Simms was born in St. Louis, MO and grew up in a small town, much like Walton. He was an avid wrestler in high school and college but after receiving a shoulder injury, he was unable to continue. Having seen the benefits of chiropractic care through his father, and then with his own injury, Dr. Simms decided to pursue a career as a Chiropractor and began schooling at Logan University of Chiropractic. After graduation, Dr. Erik moved to southern Indiana and although he enjoyed living in the greater Louisville area, he decided to move to the northern Kentucky area in 2011. In 2014, Dr. Simms decided to branch out and open his own practice, starting in Union and then moving to the Richwood area. As his practice grew, he felt that he needed more space and relocated to his current location in July of 2017. It gives more space for the X-Ray, more adjusting room, more stretching room, space for more massage therapists and also houses a new business venture, Triple Crown Health Solutions.
Dr. Simms is a avid power lifter and currently holds the bench press and total weight lift records in Kentucky for his age group and weight class. Dr. Simms and his lovely wife, Katie, are the happy owners of 2 dogs, Gunther & Indie. They enjoy spending time with family and friends, travel, and good food.
Allie Rabe, Chiropractic Assistant
I'm a Chiropractic Assistant at Triple Crown Chiropractic. A few things about me: I have a wonderful husband named Tyler, a dog and cat. I enjoy spending time with friends and family, playing softball, and crafting in my spare time.
Sydna Odland, Chiropractic Assistant
I am a fill in chiropractic assistant. My husband Simon & I have 3 children, Mari, Gretta & Tate. We moved here recently from South Dakota. So in our spare time we enjoy exploring our new community.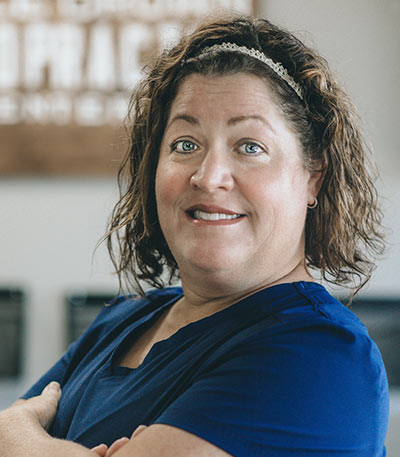 Tiffany Stephanes, Chiropractic Assistant
I am a Chiropractic Assistant at Triple Crown Chiropractic. I have a loving husband of 20 plus years named Chad and 3 wonderful sons- Wyatt, Sawyer, and Hudson. In my free time I enjoy spending time with my family and going camping.